Nurture to Wellness | Nurture Wellness Village Tour
It was a nice cloudy morning when I deployed myself at around 5:30 am for the meeting place of our service for Nurture Wellness Village in Tagaytay, for #NurtureMeDay. PS: This has become more of a photo blog post, all because I wanna share with you guys what is the magic of the place about.




Now, there are really times that you and your body can't take the stress of life anymore and gets weak, one way or another. In my case, my body "restarts". In other cases, it gets migraines, colds and fever. How to recuperate from that? Let's go to Nurture Wellness Village in Tagaytay!

This is the body's way of communicating to us that we should slow down, be it if we are a parent, a young professional or even
THE Executive
of a well off company, but most of the time, we'd rather choose to pop a pill, or even try to drink or eat all the stress away. That's actually my coping mechanism to everything if I get too much stress on my hands, but after a
well deserved nature break
in Tagaytay, with thanks to Ms. Mae of Eats a Date, my mind is in a whirl of trying to choose for the better. Let me show you what happened at Nurture Wellness Village, which made me rethink my lifestyle.
Before we got there, we were served these Kale Choclate Cookies which is the perfect chewy natural chocolate cookie, which kinda symbolizes the promise of what's to come. And when we arrived, Nurture had quite the fiesta going on with the kulintangs, the rose petals that were thrown to welcome our arrival and these bite sized goodies of chicken adobo and caldereta bites sitting on malunggay pan desal. Spell nutritious yet Y-U-M!
As we went on and had the nature walk/tour of the place, amidst all the fiesta vibe, another aura is also easily noticeable, which is the serene, quiet and feeling at one with nature. I guess it comes with the place being quite secluded to the urbanities of life that we know of... It relaxes you completely and you fall to nature's allure. You feel happy, content, relaxed and stress free just by absorbing the place.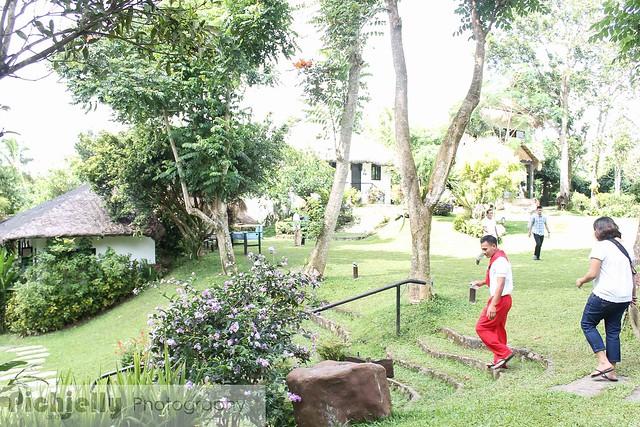 Sights are not just what Nurture Wellness Village has to offer, as it can also cater to your camping and quality bonding time needs, with either the family or the barkada or your officemates, and they also make it less stressful for you! The term is "
Glamping
" which is baisically camping without the hassle. You have your usual campfire, but then you also have your butler to take care of everything else you need from meals to setting up the tent so, I repeat, NO HASSLE. :D
And of course, there's more and more to discover. The Kawayanan trail over here leads on to some of nature's best ways to nurture our bodies, so say hello to these wonderful masseuses which will seriously take your body up on to cloud 9...10...15... ;D
No, those aren't suman, but rather these banana leaves are filled with different herbs which are steamed and used for Nilaib, a massage technique... like so...




The ladies use oils that were made in the farm of Nurture Wellness and they are made by Ms. Cathy's husband who by the way is the owner of the place and is a licensed doctor of Organic Chemistry.




You won't see ventosa pepperoni marks on this beautiful lady's back, cause the masseuse knows what she's doing and is actually letting blood circulate via doing more hilot and not just letting the glasses do the work.




Ms. Cathy Brilliantes - Turvill then introduced to us the latest part of Nurture Wellness Village, which is the Gabriella Wing. Basically, it's like a walk-in memorabilla-slash-Healthy and truly pinoy buffet in one. It's been quite some time since I've been in the province, and after seeing the place, it made me wanna go back to those times when life was simpler, and we had simpler goals, and simple pleasures like playing trumpo... ;D




Grinding and pounding coffee beans the old fashioned way was something I also did, once upon 7 years ago... :D




Kuya Querube, our tour guide-slash- Tai Chi Gong master was doing his thing in Filipino stilts, or as we call it, Tiakad, and I thought it looked pretty easy enough that I wanted to try it. After trying it, I have decided that trapeze-ing is way WAY more easier than this, and both activities are harder than they look.




Celine is actually one bad-ass lady with the old fashioned trumpo beyblade on her hands!




They serve a variety of stuff at the buffet, from Tarragon tea to Tsokolate ah!( or is it Tsokolate eh? Naku malalgot ako kay Padre Damaso neto hahaha!) To Suman, kutchinta, and any other filippino sweet kakanin you can think of.




They also had this perfect range of lunch food considering a healthy eat all you can arrozcaldo with red rice, lots of ginger and you control what you put like quail eggs, garlic and leeks and tokwa. Oh, and have I mentioned how heavenly the tapa was?? It was just plain AWESOME in flavor and tenderness.




Of course Nurutre Wellness Village is all about choosing to be healthy so what we had done next after eating was a couple of Tai Chi Gong poses from Sir Querube and we also learned a dance number after that. I was also introduced to the benefits of juicing and it was an eye opener for me that it was so easy. The bonus is that these two kwelang Liquid Chefs made the experience all the more fun.




That's actually Kale, Lemon, Apples and Carrots, with a bit of honey to taste. It may look weird and as green as The Hulk, but it tastes just divine and the plus is it's good for your health... So tara shot na! hehe :D




Another part of the program was the head and shoulder massage that we got to experience. It was totally heavenly. There were no words to their magic fingers.




All in all, although we cannot continue life without stress, we should learn to manage it properly and give our bodies, minds and souls an armor of proper health and wellness to make the journey to our life's goals a success.

It was the opening that the road to wellness is quite a journey, and it may take some time to reach the destination, is well worth it is my lesson as we went home.

It sounds kinda hard, but then again, the little choices that we make, by choosing to be postitve, choosing to substitute that can of soda for a fresh apple juice, and choosing to cook for easy enough to do meals like Arozzcaldo with lots of the good stuff like ginger and garlic which has the needed vitamins and antioxidants our body is totally craving, are the things that will make our journey to wellness an easier mountain to tackle.


For more information about Nurture Wellness Village, please check out their Facebook Page.
You might like to check these places for your next nature travel too:
Diving for less than 1500 and Relaxation at Summer Cruise, Batangas