...And why it's a good idea to indulge in an awesome pair.
High heeled shoes
to me are like magic. They give off this instant '
oomph!
' to any outfit, my walk and frame. It also helps build my confidence which is something that I always love! They can express your outfit into a classy or hipster look, depending on what the style of the high heeled shoes is.
[caption id="" align="aligncenter" width="379"]
Photo from Buzzfeed.com[/caption]
And as I have learned in life and experience, I would say that it is essential that a lady has at least 3 types of high heeled shoes in her closet (Black Pumps, Neutral Pumps and Statement heels). And that you should
NEVER sacrifice
comfort for style. #NOToTiisGanda
So in this article, I'll be giving you guys a few tips and tricks to find that awesome pair of high heels that will not only make your feet look pretty classy but also happy.
Start with a small heel (kitten heels A.K.A. 1 inchers) and work your way up to the stilettos.
[caption id="" align="aligncenter" width="630"]
That's an example of a really REALLY steep slope that I wouldn't even dare try![/caption]
If you're a newbie in the High Heeled world, you should pay close attention to the slope/pitch of the heel, and consider getting those that have a lower pitch. Having a steeper pitch will result in a higher arch for your feet, and the lower the pitch will result in more leeway for stability and more comfort for your feet.
Shoe gels will help with pains that you get throughout the day in the balls of your feet or the toe bed.
You should always feel balanced and centered when trying out the shoe. If the shoe feels too narrow, too loose or a strap feels like it is positioned in a peculiar place, you will almost certainly regret the purchase.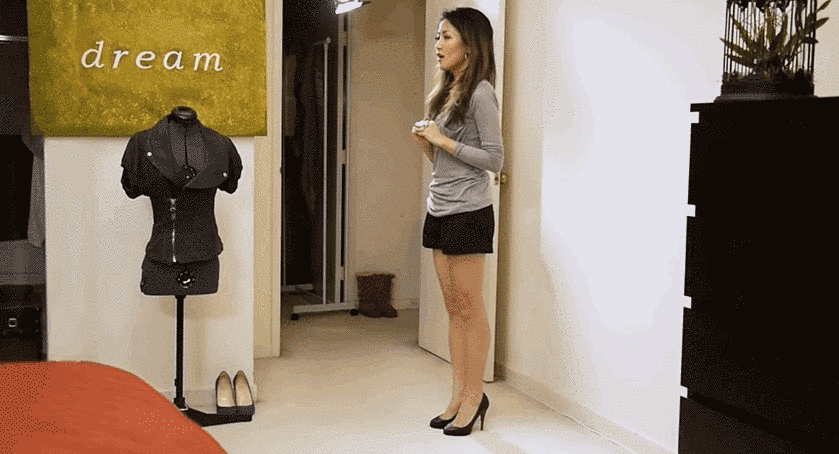 You can do the elevation test that Wendy of
Wendy's lookbook
discussed in her channel. The point is you lift your feet while in the heels, and if you can lift your feet one inch up, then the heel height is not too high for you.
[caption id="" align="aligncenter" width="236"]
Chunky, high Heeled and Sexy Pumps![/caption]
If you're a newbie, you should always remember that the wider the base, the more comfortable the shoe and a maximum height of three inches.
If you don't have time to go out and shop for shoes, you can always go online to get the right pair for you. Just remember the rule above to ensure a perfect purchase.
It's best to 'break in' new shoes before taking them 'out'. You can have a go at wearing them while you're at home each day (doing the dishes, and so forth.). Take them off once it begins to hurt and afterward repeat after some time so that the material can extend more to oblige the shape and size of your feet.
Did you know that there are actually A LOT of types of heels out in the market today? Yeah. But out of those in the chart, I almost always go for those that have chunky heels in them or wedges because it gives the feet more stability, and for me I get more comfort in wearing them, even if I really love the style of the stilettos.
[caption id="" align="aligncenter" width="346"]
These two high heels can give awesome style without compromising the comfort. Why? Because Chunky Heels. :)[/caption]
And if you're like me who is typically too busy to go shoe shopping for that perfect pair, I'm so buying a new pair of chunky
heels at ZALORA
.  My technique in making them look awesome even if I don't have long legs is that I go for nude colors or black boots with chunky heels, which can really make an outfit look très chic!