Hallyu Secret : Your way to a Glowing skin and On Fleek Brows
Koreans know how to beauty, with them pioneering the 10 step korean skin care system and how to get that Glass skin or chok chok look. With that I am pretty sure that our brows and skin are in good hands with Mi-Yong Alliance (MYA), the pioneer
Korean Beauty
Academy in the PH and their recently launched Clinic, Hallyu Secret.
I personally got to tour around the place and had a feel of the instructors who are true experts in their field.
(L-R) Here we have Mi Yong Alliance Korean Chairman Mr. Raphael Jang, Kris Candyd Sibal, Philippine CEO of Hallyu Secret Aesthetics and LK Park Permanent Make-Up MYA's head instructor.
"MYA has successfully made a reputation as the Korean beauty academy who consistently bring "first in the Philippines" beauty treatments. This is made true by the Korean style permanent make-up, BB Glow and Semi-Permanent Mascara which are widely available to many salons, clinics and skin care center today. Hallyu Secret's system was adopted from a famous beauty center in Gangnam, Seoul named Pretty Face Clinic where in Chairman Jang is also one of the directors of the said clinic," PCEO Sibal shared.
Aside from microblading, facials, true nail art and the like, they are also invested in giving the best when it comes to advanced skin care services. The
Hallyu Secret Gold Therapy
is one such case, which is sure to give our skin all the good things it need with the help of the 24 karat gold trying to suck all the bad things out of our skin.
They also have invested in a healthy makeup range, with the
XY Glow
and the
XY Blush
that is for people who have normal to sensitive skin, and cannot afford to wear powder makeup with talc or the cream ones that are too heavy for the skin.
The
XY Glow is a long lasting bb cream or foundation of sorts that can help with melasma or acne scars
when applied with needles. You can also apply this topically and it can last for 8 to 24 hours depending on how long you let it sit on the face before wiping off, much like the XY Blush below.
The
XY Blush
, when applied topically, can last for 8 to 24 hours on fleek with just a drop, put on for around 15 seconds to a couple of minutes. This can also be applied with needles and is used for their semi permanent makeup.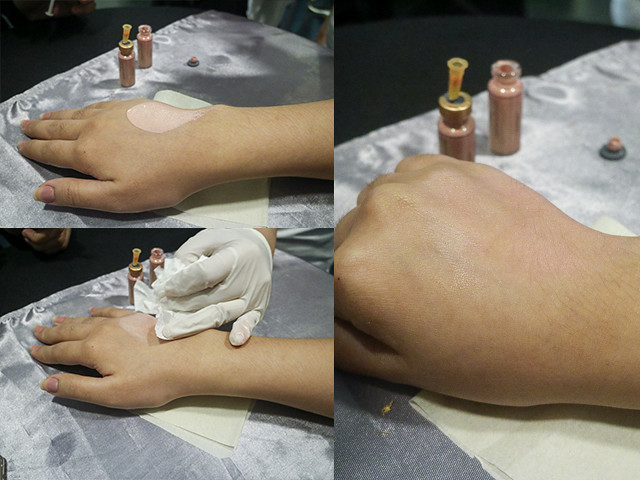 Well-known for permanent make-up (PMU) techniques, MYA's head instructor Ms. LK Park enlightened guests and media about their various services.
"I am LK Park, I am here now in Philippines with a mission to spread quality skills among the Filipino PMU specialists. There are a lot of wrong cases in Philippines, a lot of clients go to us for correction of their brows. This is what our academy is famous for after all. PMU has evolved through time, today it doesn't only focus on the brows, eyeline and lips, it became a procedure now for those who have scars, bald scalp, and those with dark areolas. It became a solution to cover-up the insecurities of people. Here at Hallyu Secret all these kinds of PMU services are available. From making your brows on fleek up to coveing the baldness of your head," she stated.


"This all started with our hope to share quality skills and the latest trends to Filipinos. Our journey for the last 2 years was not easy. Kris and I would always fight about many things, there were a lot of times that we wanted to stop working and give-up. But as we make classes, batch after batch, there is a growing obligation and responsibility to our clients whom we consider our children in the industry. We could not stop aiming the best for them that why we keep giving opportunities to people grow with us as well. Some examples are our instructor course programs and K-Beauty Olympics. We know that this kind of programs will totally change their future," Chairman Jang pronounced.